We're excited to help leading companies build an important part of their culture by bringing their people together. What the physical workplace used to solve to build culture, Marco now aims to solve.
Company culture consists of different things—a company's mission, its vision, its values, and its people. The place where people gathered used to be natural unifier. Now that more people are distributed, there's a gap in terms of how to bring people together.
New York City Launch
One of the most exciting parts of our journey so far has been to formally launch Marco's new line of in-person experiences as well as introduce the leadership team right in NYC—me and my co-founder's new home, and a cultural epicenter of the world.
It was immensely rewarding to bring together so many important people in the growing Marco community - team members, hosts, investors, customers, family and friends. We're all united by the common thread of passion for exceptional experiences and community.
We're big fans of Priya Parker's "The Art of Gathering", a must-read for planning gatherings to be remembered. She has great thoughts on what we get out of gatherings:
"Reverse engineer an outcome: Think of what you want to be different because you gathered, and work backward from that outcome."
So - what did we hope to get out of the NYC launch?


Tell people what we're up to
Many people don't know about Marco, or it's expanding vision. As with any launch event, we wanted to share with our new friends in NYC what we do at Marco.


Bring our community together
We're building a community at Marco, and it was important to bring together all of the people who make our community special. Friends, family, clients, investors, hosts, and more together to celebrate


Showcase experiences
We pride ourselves on bringing people together through extraordinary experiences...so the launch party needed to be extraordinary. Watch the video and read below to learn more about how we showcased some of our favorite spaces, brands, and hosts. There were drinks, there was dancing, there was drumming, there was connection.
The Experience
Marco prides itself on bringing people together through extraordinary experiences. So we want all of our Meet Marco events to be extremely experience-focused.
Part 1: Sake + Bites For Our NYC Hosts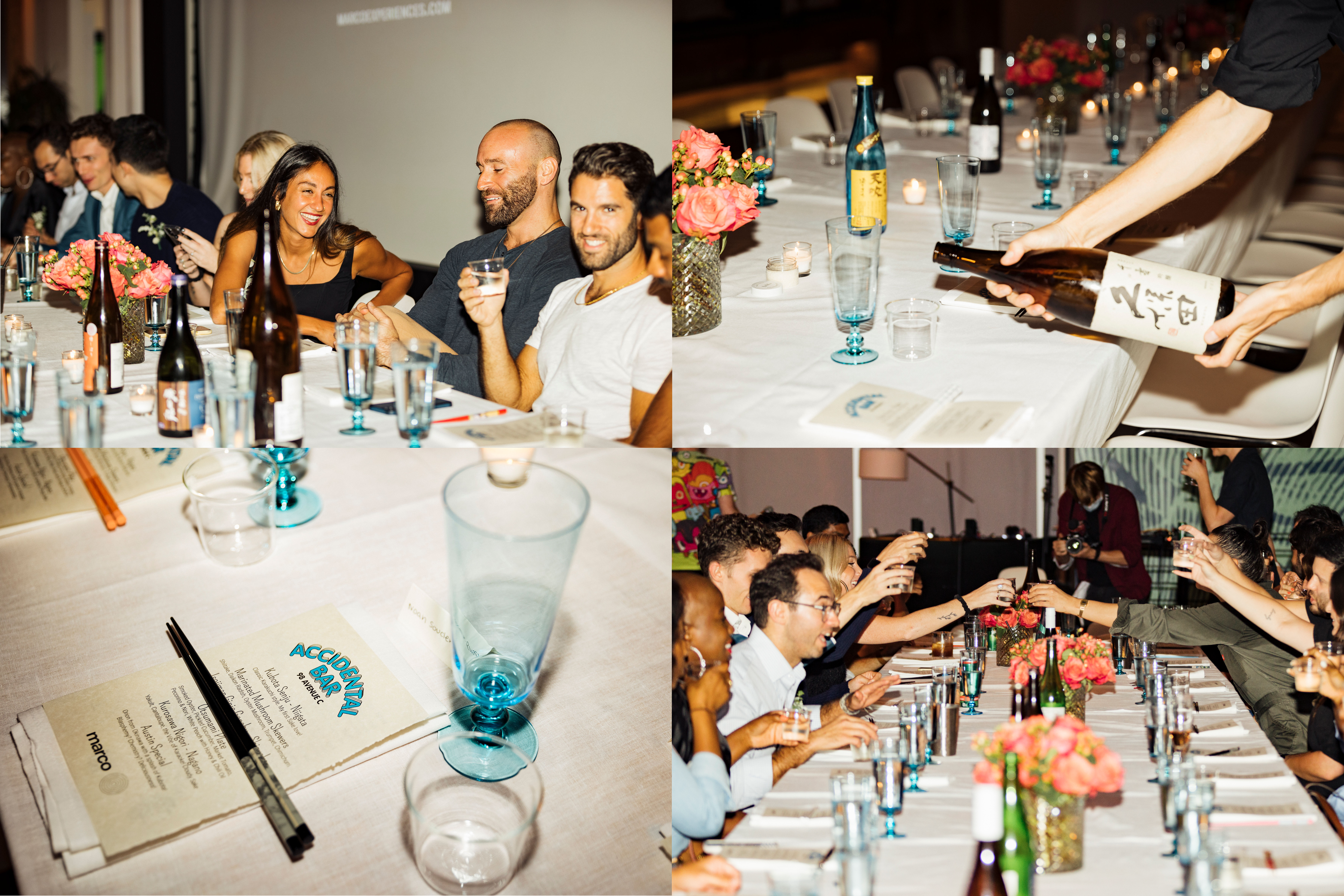 In our first ever Meet Marco: City Launch, we kicked off the evening with a private experience for our most valued Marco partners—our hosts. Austin Power (yes, that's his real name), owner of Accidental Bar in the Lower East Side of Manhattan, hosted a cheeky sake tasting paired with eccentric bites (marinated mushrooms on skewers, smoked oysters, etc.). The tasting ended with an "Austin Special," aka pre-made sake bombs in a red solo cup.
Honoring our hosts
Our hosts are the bedrock of Marco. When we set out to build Marco, the vision was to create a modern experiences platform that brings together best-in-class hosts. The creators, brands, and venues we work with are diverse, but they share the common thread of passion for exceptional experiences.
It's been a wild journey for us — like so many — as we've navigated the past almost two years of COVID. As soon as the pandemic hit, we started working with creators who at the time, were struggling to pivot their businesses.
We pride ourselves on how we've been able to support the creator economy. Take Kait—a Michelin-trained chef in San Francisco—who had to shut her newly opened restaurants down at the start of COVID. We started working with her to offer virtual cooking classes, which she'd never done.
That involved the Marco team hand-packing boxes to send to customers, frantically Insta-carting ground turkey to the head of the tech practice at Bain after realizing an ice pack won't keep turkey from going bad...
But what emerged was a thriving business, and now Kait is back up and running with two locations, and hosting Marco in-person experiences in San Fransisco. This is only one of many, many examples.
We're in the early stages of our journey of building what we hope will be a way to not just help teams foster culture, but also to support the creator economy.
Part 2: An Experience To Remember For All

We had two super talented musicians—Handpan drummer Noah Appel and beatboxer Jason Stone—join us to perform. This sonic experience got us all grooving while we sipped custom Marco-crafted cocktails.
It was amazing to bring together so much of our community under one roof. From customers to hosts, friends and family to investors— it was a great chance to celebrate how far Marco has come in just under a year.
Check out the full gallery of photos from the event.
Why We Gather
Thinking about why we bring people together is just as important as the act of bringing people together.
"Gathering matters because it is through each other that we figure out what we believe."

- Priya Parker
What Marco is trying to build is so much bigger than an events company. We're launching Marco at a time when people feel disconnected and apart. We want to enable our customers to find meaningful connections with their own communities.

We're proud to play our part in solving how we get more out of life and work. We spend 1/3rd of our time working, and it's often time we tolerate instead of enjoy.
The future of work will be changed forever - with more flexibility and a greater focus on how we bring our people together. It's more important than ever to gather through creative, intentional, and inclusive experiences. And we're excited for Marco to be the go-to-company to be building company culture.
Thanks for being a part of the journey, and see you next in San Francisco!