Large scale events already cost more than people assume. On a personal note, I'm planning a wedding right now, and let me tell you, the sticker shock is real.
But the thing is — once you start breaking it down, line by line, it starts to make sense and feel less overwhelming. So to start, let's break down what you're actually paying for. From there, we'll dive into a couple strategies to avoid or cut back on some of these costs.
And it's important to remember why you're planning an end-of-year celebration in the first place.
Holiday parties are a powerful way to reward your team of their hard work and accomplishments over the past year. Coming together as a team in-person can help to unify, strengthen, and celebrate the relationships within your team and company. And with layoffs happening throughout the tech industry, morale may be low for many teams and employees, making it that much more important.
So, what are you actually paying for?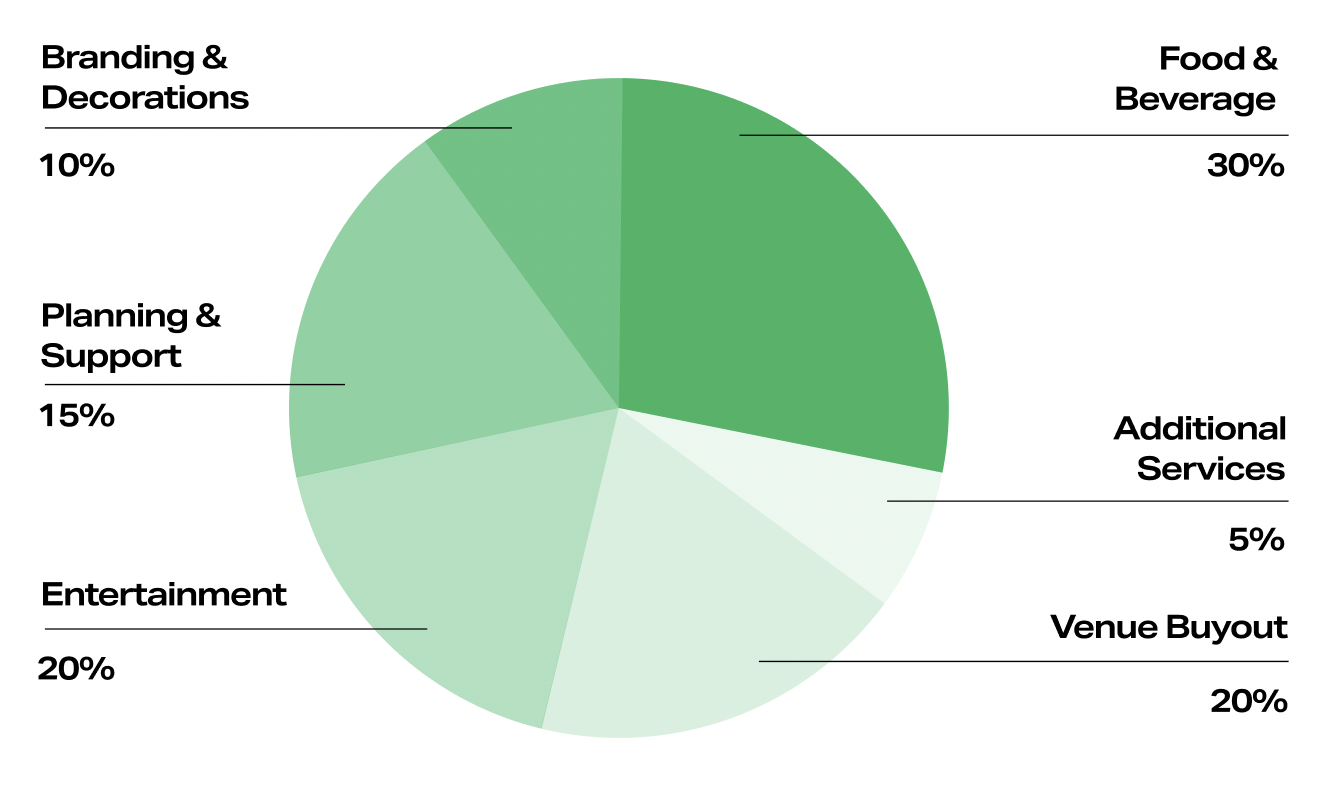 Food & Beverage
This one is pretty self-explanatory. Parties are typically centered around food and drinks. If you have recently been to a party that deprioritizes the food and drinks, I'm willing to assume it was not a very good party. That's why the majority of your budget will go here. Just to give you a high-level sense — If you're hoping to provide an open bar and some small bites, you're looking at $100+ / head right there.
The Venue
A private space costs money. A lot of times there is simply a minimum, so it can be lumped into food & bev, but together they will account for ~50% of your expenses, regardless.
Branding & Decorations
You want to make your event feel uniquely yours to remind your team why they love working at your company. This might mean inserting your logo and brand colors in the right places at the right times. It may mean decadent florals and centerpieces.
Entertainment
Elevate your event with experiential components like dancers, musicians, magicians, comedians, or something totally different. A party without entertainment is just that: a party. You'll want to make your end-of-year celebration memorable and special. An experience.
Take Melio's 2021 Holiday Party, for example. Purple champagne for their company color, stilt walking servers to add texture and fun, and more.
Additional Services
Whether its onsite facilitation, photography & videography, a photo booth, or something else (there's always something else), it's smart to add in a 5% cushion for those additions or unexpected expenses.
Planning & Support
Sure, you can do this in-house and remove the 15% planning fee, but let's get into what that planning fee actually covers:
Venue Sourcing & Selection: Work with experts to secure a vetted, quality assured, available venue that meets your criteria and needs. Marco acts on your behalf to negotiate all rates and facilitate contracting between you and the venue.
Event Design: We guide you on the what, how, and when of your Event, bringing all pieces (venue, food, beverage, experiences, production, & branded moments) together to bring your vision to life.
Project Management: All the back and forth comms with venues and vendors, scheduling walkthroughs, contracting and budget management — everything will be managed by Marco.
Food & Beverage Management: We help you plan and book your food and beverage needs for your Event, scoping and coordinating with the selected venue.
Experience(s) Sourcing & Executing: We help you book experiences from Marco's experience marketplace or by sourcing experiences no listed on the marketplace.
Event & Guest Management: We help you manage your Event details and RSVPs in one cohesive Event landing page, that way you can focus on making sure people have the right information and confirming attendance.
Event Production & Execution: We'll manage all the details and lead the internal venue's team and/or 3rd party vendors to ensure the event is flawlessly executed.
Keep in mind that if you're not outsourcing that work, you're paying someone internally to do it. On average, we save companies 40+ hours of work planning one large-scale event. Time is money, no?
Why do things feel particularly expensive in 2022?
In the current economic and social environment, things might seem particularly astronomical. Why?
Inflation
Inflation has hit a 40 year high in the US (and many other countries). So for the same reason your milk and cereal has increased by 15% at checkout, your company holiday party may be subject to the same.
Seasonal surging
At Marco we have hundreds of data points to show us minimum pricing for venues all across NYC and SF. Between the dates of November 15th - January 10th, pricing surges quite significantly. Why? Because of that pesky little concept of supply and demand. Demand surges, supply is limited, prices skyrocket. And then we compound that with record high inflation…
High demand
In a post-lockdown world, people are eager to spend time together in-person. In many cases, team members are meeting for the first time after months, even years, apart. Organizations are excited to take advantage of being able to actually have a holiday party safely this year — and it's showing in our spike in demand.
So, what can you do about it?
Here are a few strategies to reduce holiday celebration-related expenses — this season and seasons to come.
Plan way in advance
While we might be too late this year to really get ahead of it, consider this your early warning for your 2023 holiday party. We're seeing that for the holiday parties we helped companies plan in August and September this year, prices hover around 10-15% lower than parties planned <1 month in advance.
Choose less saturated dates
This is your best bet if you are trying to avoid holiday supercharges. Choose a less traditional, less saturated month like late January, or even early February! We're helping a handful of companies plan absolute bashes for early February, when their dollar can stretch quite a bit further. Also, what a fun way to keep the festivities going! December is already too busy for everyone.
Think about alternative options
Our top recommendation for a lot of our customers is to plan a company retreat. This achieves the same goal: bringing your people together in a fun, exciting, and different environment—while going the extra mile(s). Multi-day events have the added benefit of letting your employees really get to know each other, among dozens of others. Grab a copy of our Retreats Ebook — chock full of great stats and case studies — to learn more.